At Urban Shield, a Las Vegas Metro PD SWAT commander shared key takeaways from the police response to the massacre
By Nancy Perry, Editor, Sep 12, 2018
On October 1, 2017, a gunman opened fire on 22,000 Las Vegas concert attendees from the 32nd floor of the Mandalay Bay Resort and Casino. The gunman fired more than 1,100 rounds over 10 minutes, leaving 58 people dead and 851 injured.
As part of the training offered at Urban Shield 2018, Captain Christopher Tomaino from the Las Vegas Metropolitan Police Department (LVMPD), commanding officer of LVMPD's SWAT Bureau, discussed some of the lessons identified from the police, fire and EMS response to the Route 91 Harvest music festival shooting.
THE CHALLENGE OF SPECIAL EVENTS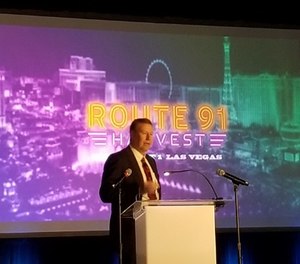 Contrary to popular opinion, noted Tomaino, the Las Vegas economy is driven as much by special events as it is by gambling. For example, the annual Electric Daisy Carnival runs for three nights attracting 100,000 people each evening and is staffed by 500 officers.
"Agencies should think about security issues at open-air events and the possibility of attacks from surrounding buildings like we saw in Las Vegas," said Tomaino.
One challenge facing 911 dispatchers was that most of the people attending the Route 91 Harvest Festival were from out of town. As the concertgoers started to flee the scene, they ran to different landmarks and casinos then called dispatch to report the shooting or that they had been injured. This led to several false reports of shootings at other locations.
Another complication for officers trying to orient to the threat was that when the performers left the stage, the mics were left on. This resulted in gunshots being echoed by the speaker system, which led some officers to believe that the shooting was at ground level.
MEMORABLE QUOTES ABOUT PREPLANNING SPECIAL EVENT RESPONSE
Here are some of Tomaino's most memorable quotes from the presentation:
"You need to think about uniting family members and victims. This process should be table-topped ahead of time."
"We ran out of tourniquets. Ensure MCI medical supplies are available at large-scale events as part of the special event planning process. The more you can forward deploy at hotels and mass gathering events, the better."
"Community wellness is important as the community is looking to us as emergency responders to provide that support."
"Unlike the fire department, we didn't have access to elevator keys. Your department should get access and start training with them as that will give you a tremendous advantage to being able to deploy your team."
4 KEY TAKEAWAYS
During his presentation, Tomaino discussed several topics, including handling the digital evidence from the event, how to manage the media, and the importance of collaboration between fire, EMS and hospital personnel. Here are four key actions every LE agency should take ahead of a special event:
1. Develop a digital evidence policy
To date, investigators have reviewed approximately 21,560 hours of video and 251,099 images. The video and images were obtained from security cameras and police body-worn cameras, as well as cellular telephone video submitted by the public to the FBI.
"For those departments who are looking to move toward their officers wearing body-worn cameras, the agency must develop a strategy for how they will handle both the analysis and release of video captured from such an event," said Tomaino. "We are still working through many things concerning the pros and cons of releasing BWC footage in terms of re-victimizing the victims who were there."
LVMPD also had to retask multiple officers so they could review the thousands of hours of video of the shooting.
2. Learn to expect the unexpected
While Tomaino was en route to the scene, he started to hear radio traffic that people were breaching the fence of McCarran Airport, located about a mile from Mandalay Bay. At the time it was unclear if those individuals were victims who had fled the scene or additional perpetrators.
"Radio traffic based on 911 callers suggested these individuals were suspects, but during an incident such as this you only want to talk to the dispatcher or the boots on the ground," said Tomaino. "I contacted an airport officer to ask what he was seeing and it became clear these were attendees of the music festival who had fled the scene. They were corralled into a hangar and isolated and triaged."
As Tomaino had considered deploying a SWAT team to the airport to address this threat, the truth prevented valuable resources from being mistakenly dispatched.
3. Address community survival strategies
A significant number of the victims of the Las Vegas shooting were transported by personal vehicle to hospitals as people fled the concert and carried the injured to safety. Many of those people were not from Las Vegas so they used different cell phone apps to direct them to the nearest hospital. However, noted Tomaino, those apps did not distinguish between Level I and Level II trauma centers, which resulted in some civilians driving victims to Sunrise Hospital, a Level II trauma center, which was not as well equipped as nearby UMC, a Level I trauma center.
"You need to tabletop this with communities ahead of time. People will self-direct to care during such events and they need to be educated about the limitations of these smartphone apps," said Tomaino.
4. Revisit hospital response policies
LVMPD sent police officers to the Vegas hospitals who were receiving victims to protect these potential secondary targets. When the nurses and doctors who self-deployed from home arrived at the hospital, they said they were relieved to see LVMPD officers outside the facility. Consider incorporating a similar policy into your response plans, said Tomaino.
It would also be helpful, noted Tomaino, to stage EMS personnel outside hospitals to perform intermediary triage of victims arriving by private vehicle. This would prevent hospital staff from having to leave the facility to manage those patients.
ADDITIONAL CONSIDERATIONS FOR LARGE-SCALE EVENT RESPONSE
There were several other lessons identified that Tomaino shared with attendees:
Do not wait to build relationships with local (police and fire) and federal partners. These relationships should already be established before a large-scale event taking place.
Ensure rifles are in place for overwatch at large-scale events as part of the special event planning process.
Update Multi-Assault Counter-Terrorism Action Capabilities (MACTAC) and hostile MCI policies to include police and fire training in hot zone situations and/or threats.
Most agencies can handle their local media outlets. It is important to understand how to deal with non-local media as their approach is very aggressive and they bring more resources to bear.
Make sure officers know that in the aftermath of a critical incident, that their BWC footage, radio traffic and calls into the communications center will most likely be made public. Prepare them often and early for this through an Employee Wellness Plan.
Be cognizant of the potential for a large volume of donations of various goods. Develop a tracking system and designated drop-off locations for these items during significant incidents.
Create an MCI investigative taskforce for incidents of this magnitude as opposed to only a select few detectives handling.
RELATED RESOURCES ON SPECIAL EVENT AND ACTIVE SHOOTER RESPONSE
About the author
Nancy Perry is Editor-in-Chief of Police1 and Corrections1, responsible for defining original editorial content, tracking industry trends, managing expert contributors and leading execution of special coverage efforts.
Prior to joining Lexipol in 2017, Nancy served as an editor for emergency medical services publications and communities for 22 years, during which she received a Jesse H. Neal award. She has a bachelor's degree in English Literature from the University of Sussex in England and a master's degree in Professional Writing from the University of Southern California. She is based out of Santa Clarita, California. Ask questions or submit ideas to Nancy by e-mailing nperry@lexipol.com.